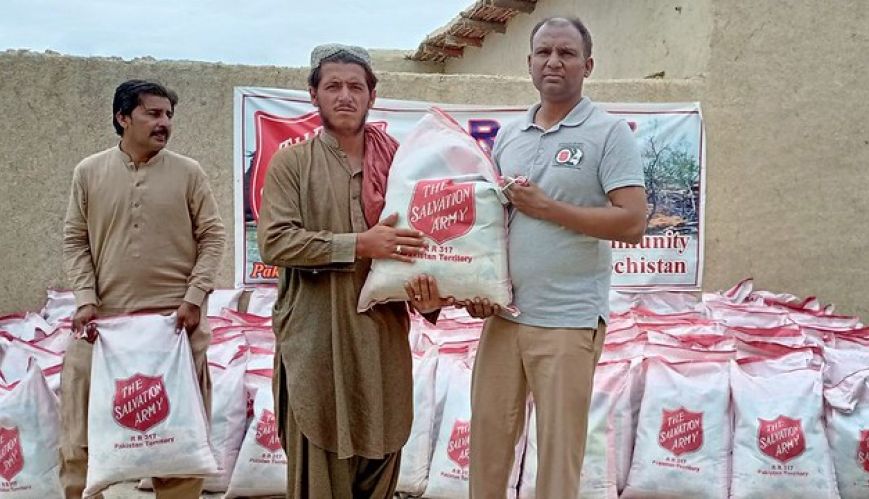 International news – 24 September
23 September 2022
Salvation Army teams are supplying flood-affected people with food supplies and hygiene packs in many areas.
Army teams soldier on in flood-ravaged Pakistan  
The Salvation Army has been working in regions where the floods have completely destroyed some houses.
The Salvation Army is continuing to provide relief without discrimination to flood-affected victims of Pakistan's worst flooding in 60 years. The death toll is nearly 1500, with an estimated 33 million people affected. Eighty of 160 districts have been declared as 'calamity hit', according to the National Disaster Management Authority.
The Salvation Army is helping hundreds of families, with an average size of six people, with cooked food, hygiene articles and shelter arrangements. Army teams are working in close coordination with government agencies to ensure maximum effectiveness.
"We were not expecting this. For some, everything is gone," said George William, Partnerships and Programme Development Consultant for The Salvation Army in Pakistan. "It seems to be bigger than we know. In some places, people are unable to be reached. There are also those who have been contacted and supported by relief workers just in time.
"Salvation Army workers met with a community leader. He had been concerned about how people would survive as he had not expected additional help to access the village. He wept tears of relief when The Salvation Army arrived to assist him, allowing him to be part of the distribution efforts and serve his community.
A significant obstacle for first responders is access to deliver much-needed aid. Since the heavy rains started, more than 6000km of road and 243 bridges have been damaged or destroyed. It is difficult to reach the regions facing the most extensive damage from The Salvation Army Territorial Headquarters, situated on the eastern border in Lahore.
An increase in the demand for and a decrease in the supply of produce and supplies is leading to challenges in acquiring much-needed relief items. Food insecurity is looming following the loss of 750,000 livestock and other spoiled agricultural produce. There is a shortage of food and shelter, as well as damage to health infrastructure. 
Salvation Army emergency response teams and volunteers will continue their rapid response in flood-affected areas, carrying out further needs assessments on the ground as they work.
The worldwide Salvation Army is praying for the people of Pakistan and those working to provide relief amid the destruction and devastation they face these days. May God sustain them and be their strength.
---
'Life-saving' water distributed in Mississippi
Salvation Army teams prepare to distribute bottled water to affected residents in Jackson, Mississippi.
Heavy rain and flooding caused damage to the main water treatment facility in Jackson, Mississippi, USA, earlier this month, leaving more than 180,000 residents without clean drinking water. The Salvation Army's response was immediate and critical to the community's welfare. 
While the city was still putting together plans for a large-scale water distribution program, The Salvation Army's USA Southern Territory stepped in and, working in coordination with the Mississippi Emergency Management Agency (MEMA), arranged its own distribution plan with support from Walmart, a national partner.
The Salvation Army's Alabama-Louisiana-Mississippi Division put together a seven-person emergency response team under Incident Commander Major Bill Shafer's leadership to work with local Salvationists and volunteers. Response teams were also dispatched from Tupelo and Hattiesburg, with their role mainly to transport water to underserved communities and take supplies to people unable to get to the city's distribution points.
The Salvation Army's first action was to distribute two truckloads of bottled water in a drive-through event in a Walmart parking lot.
Salvation Army teams have continued to provide help to those who were in the greatest need. Will Trueblood, The Salvation Army's Director of Emergency Disaster Services for Alabama, Louisiana and Mississippi, said: "Families are resource-limited, have little access to support, and are physically and emotionally drained by the stress of this ongoing crisis. They need help, they need hope, and The Salvation Army is committed to providing both."
---
Peddles lead united congress in Lisbon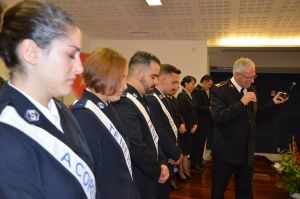 General Brian Peddle prays over the four cadets of the Defender of Faith session at the congress. 
A full year of celebrations to mark the 50th anniversary of Salvation Army ministry in both Portugal and Spain came to a joyful conclusion with a congress led by General Brian Peddle and Commissioner Rosalie Peddle (World President of Women's Ministries) in the Portuguese capital, Lisbon.
The two countries were united as a Salvation Army command in February 2013, but the Army's work dates back to May 1971 in Spain and July 1971 in Portugal. This was the first-ever event for all Salvationists and friends from both countries.
The congress, attended by about 300 delegates, included Officers Councils and specific meetings for women, men, young people and children, which all took place simultaneously. United meetings provided the opportunity for Salvationists and friends of all ages to draw closer to God and be challenged to stand firm in his presence.
One of the highlights of the congress was a welcome to the four cadets of the Defenders of Justice session – the command's first cadets for seven years. The General told them: "I chose your session name, Defenders of Justice, but God has chosen you to be part of this session."
Over the weekend, God used the General and Commissioner Rosalie Peddle to minister to delegates in a powerful way, touching hearts, calling lives to a total surrender to God, and challenging young people to say 'yes' to God's call to serve as officers of The Salvation Army. At the last meeting of the congress, 16 young men and women moved forward to the mercy seat in response to this call.
After nine years together in one command, this first combined congress increased the feeling of unity between the two countries. The congress and the international leaders' ministry positively impacted the lives of delegates, who returned home with a renewed belief that God has greater things to do in Spain and Portugal.